MFhS 11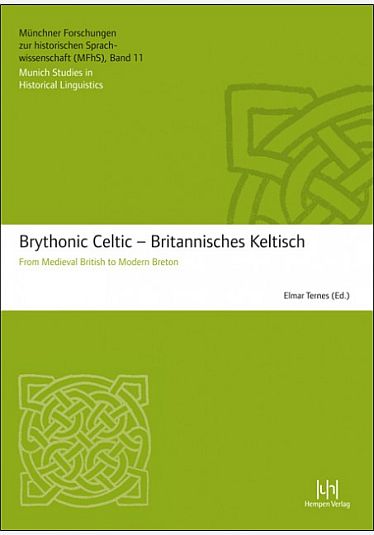 Elmar Ternes (Hrsg.): Brythonic Celtic - Britannisches Keltisch. From Medieval British to Modern Breton. Bremen (Hempen) 2011.
[Rezensionen:
Elena Parina, ZfCeltPh 59 (2012): 334-339;
Erich Poppe, Cambrian Medieval Celtic Studies 64 / Winter 2012: 121-124;
Pierre-Yves Lambert, Etudes Celtiques 39 (2013): 328-330).]
Vorwort und Inhaltsverzeichnis (pdf)
This book concentrates on the three Brythonic languages Welsh, Cornish, and Breton. These languages are treated in more detail than in any previous publication, taking account of extra-linguistic as well as grammatical aspects. The latter include phonetics/phonemics, morphophonology, morphology, syntax, and lexicon. A special feature is the inclusion of texts in the original languages with translations. The five chapters (three in English, two in German) cover all evidenced historical stages, from the earliest sources in medieval British, which may be taken as a common source for all three languages, through the later historical developments (Middle Welsh, Cornish, Middle Breton) up to their modern representations (Neo-Cornish, Modern Breton). Only Modern Welsh, which is easily accessible in the literature, is excluded, which keeps the volume within reasonable proportions. The structure of each chapter follows the same lines so that cross-referencing is easy. The contributors (Peter Schrijver, Stefan Schumacher, Elmar Ternes, Nicholas J. A. Williams) are internationally recognized specialists in their respective fields.